"Summer Festival in the Metaverse" Create it from a scratch! Try it on programming, avatar, and world design (real in virtually)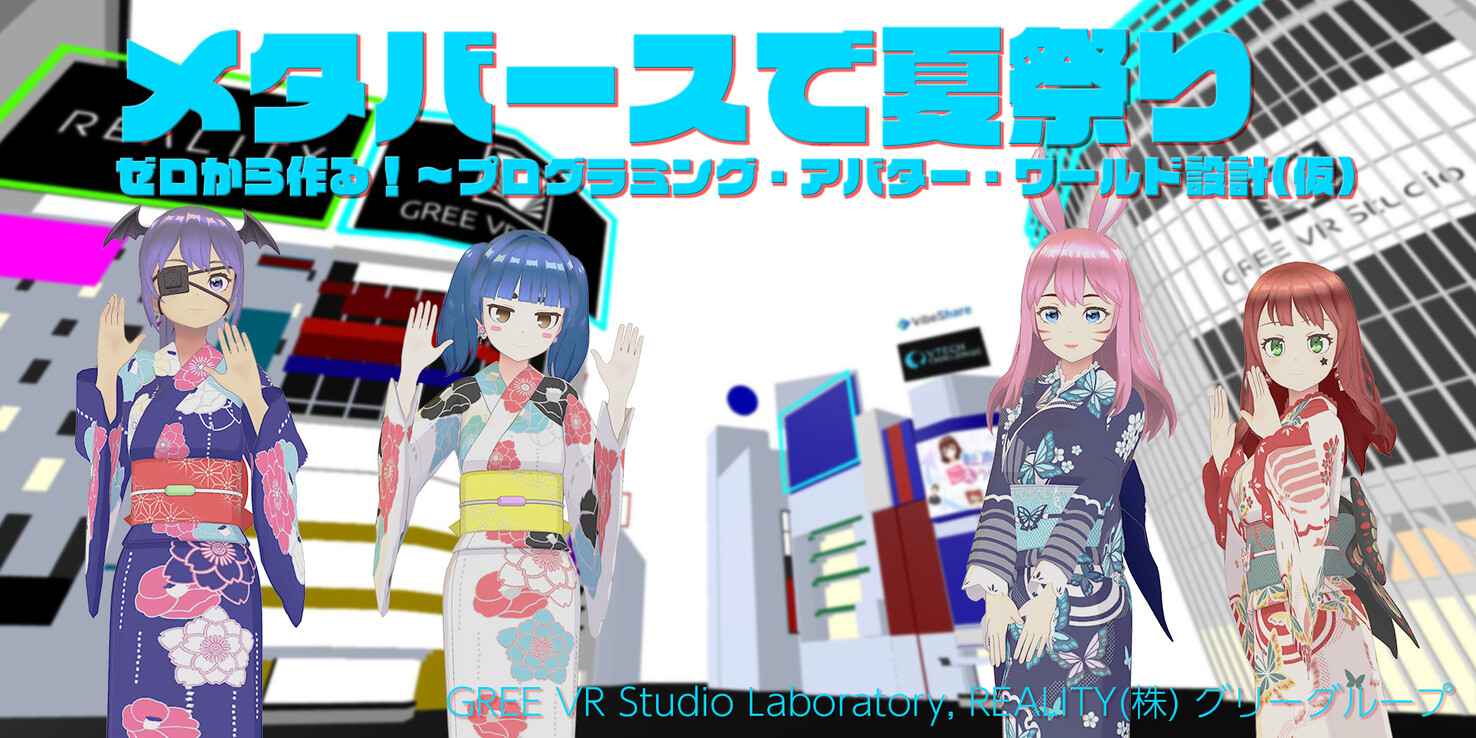 ---
Menu contents

What is "Metaverse" that's so popular these days? Games? Virtual reality? Or a new business? In this workshop, children will be joined into 3 groups: (1) Programming, (2) Avatar + motion design, and (3) World design, to experience a "summer festival in a metaverse created from scratch" just for them. Let's become "creators of summer festivals" together with GREE VR Studio Laboratory, developer of smartphone app REALITY, Digital Hollywood University, and BLOCKVROCK!
Organizer

GREE VR Studio Laboratory, REALITY, Inc. (Family of GREE, Inc. )
Cooperation with: levelenter, Digital Hollywood University
Date and time

・ August 19 (Fri), 13:00–14:30
・ August 19 (Fri), 15:30-17:00
Venue

Mori Building Head Office, Roppongi Hills Mori Tower (We will contact you later regarding the specific meeting place)
* Click here for access
Maximum number of participants

18 per workshop
Eligible ages

Elementary school 4th grade and above (Recommended age group: Junior high school 2nd grade and above)
Parent/guardian accompaniment

Not required
* To prevent the potential spread of disease, only one parent/guardian can enter the workshop venue.
* Please note that due to the flow of the workshop, we are basically planning to have parents/guardians wait in a separate room. 
English / French support

Available in English and French
Things to prepare

The items that participants need to prepare for attending this workshop are as follows.
Please have these things ready and on hand when you come to the event.​ ​

・Note
・Pencil
・Smartphone (optional)
Remarks

The programming tool will be "BLOCKVROCK" (https://blockvrock.com/). If you have programming experience with Scratch at school, it will be easy to understand. In addition to programming, you can also divide into groups and participate in avatar design and world design. If you have any creations that you usually make, we would appreciate it if you could bring them with you. For example, it can be a scribble on a notebook.
---
COVID-19 preventative measures

The workshop will be held with consideration for the health and safety of children, by taking measures against the spread of COVID-19.
Refer to this page for details. 
Notes

See this page for the "Points of Note" and "Frequently-asked Questions" regarding the workshop.
Please review the "Points of Note" before you apply.
Inquiries

Visit this page if you need to inquire further about the workshop.
---